Are you looking for

500 Hour Yoga Teacher Training in Rishikesh, India

? Choose from our

500 Hour 

Yoga Teacher Training India Available Batches

 with professional Yoga Certified Training!
Our 500 Hour Yoga Teacher Training India is the highest and the professional certification for a Yoga teacher. It is designed to reach a near perfect approach towards yoga teaching in a yoga trainer. Eligibility bars for admission in this course are also higher than the other basic courses. The RYC Yoga 500 Hour Teacher Training will enliven your body and enlighten your mind and spirit for yoga with brief knowledge and experience in yoga.

Total : 500 Hours
Minimum Contact Hours: 450 hours
Minimum Contact Hours with Lead Trainer(s): 200 hours
500 Hour Yoga Teacher Training Dates & Fee:
Starting Date
Duration
Fee
Location
Bookings
02 March 2018
50 Days
$ 2799
Rishikesh (India)
Completed
02 April 2018
50 Days
$ 2799
Rishikesh (India)
On Going
02 May 2018
50 Days
$ 2799
Rishikesh (India)
Open >>

Apply Now

02 June 2018
50 Days
$ 2799
Rishikesh (India)
Open >>

Apply Now

02 July 2018
50 Days
$ 2799
Rishikesh (India)
Open >>

Apply Now

02 August 2018
50 Days
$ 2799
Rishikesh (India)
Open >>

Apply Now

02 September 2018
50 Days
$ 2799
Rishikesh (India)
Open >>

Apply Now

02 October 2018
50 Days
$ 2799
Rishikesh (India)
Open >>

Apply Now

02 November 2018
50 Days
$ 2799
Rishikesh (India)
Open >>

Apply Now
RYT 500 Fees Includes:
 An Exclusive Accommodation with attached bathroom and hot water
Wifi Internet
Meals (Breakfast, Lunch & Dinner) – Veg
Local sightseeing with outdoor activities like River rafting & Rock climbing
Yoga Books
RYC Club Membership for 25 years – View Benefits
---
Salient features of 500 Hour Yoga Teacher Training India:
All the syllabus of Yoga Teacher Training (300 Hours) is included in the Yoga Teacher Training (500).

This course includes more practical knowledge and experiential learning about advance Hatha and Vinyasa asanas in the direct supervision of the lead trainer.

This course gives you exhaustive 200 hours of overall training with the lead trainer and helps you develop your own style through observation.

It includes 150 hours of Training techniques at an advanced level.

The subject of teaching methodology is allotted minimum of 30 hours.

Advanced human anatomy and physiology; and their relation to the yoga postures are studied for a minimum of 35 hours.

Yoga philosophy at an advanced level is allotted a minimum of 60 hours. This course facilitates elaborate discussions to understand the essence of yoga philosophy.

Extensive practice of yoga with the lead trainer for a minimum of 40 hours is another important feature of this course. This excludes the time spent in doubt clearing sessions, observation, and feedback.

500 Hour Yoga Teacher Training India is the highest and finest teacher training which covered all asana's and can take you into pro world to spread & guide yoga awareness around the globe.
Advance level of following Kriya covered –
 Jala Neti – Nasal area purification process.
 Sutra Neti – Advanced form of Jala Neti
 Dhauti (Vamana) – Alimentary canal purification process
 Vastra Dhauti (Cloth) – Dhauti involving cloth
 Danda Dhauti Practical & Theory
 Sankha Prakhalana – Alimentary canal detoxification
 Nauli – Massage for the abdomen cavity
 Trataka–Process of intense and deep concentration on a subject. This increases the power of concentration. It develops the dormant inherent spiritual powers in every person. It gives power to eyes. Mental steadiness increases and restless mind becomes peaceful.
Advance level of Pranayam covered –
Anuloma Viloma
Nadi Shodhan (Advanced)
Ujjayi (Advanced)
Sitali (Advanced)
Sitkari (Advanced)
Bhastrika (Advanced)
Bhramari (Advanced)
Suryabhedena (Advanced)
Chandrabhedana (Advanced)
Murccha
Plavini
Advanced Level Meditation techniques covered –
Focused attention meditation
Third Eye Meditation
Chakra Meditation
Yoga Meditation
Kundalini Meditation
Kriya Yoga
Sound Meditation
Course Curriculum of 54 Days – 500 Hour Yoga Teacher Training Rishikesh:
Our 500-hourYoga Teacher Training Course is constructed to provide a skilled understanding and experience of all aspects of Yoga including: Introduction to key concepts and practices of Hatha Yoga along with Ashtanga and Ghata Yoga Asana (Yoga Postures), Pranayama (Proper Breathing), Chanting &Meditation, Yoga Anatomy, Yoga Philosophy and Nidra Yoga.
The Course Curriculum consists of:
Yoga Therapy

: 2-Hour Class on Daily Basis. Students will be provided with an introduction to yoga therapy which includes the anatomy and pathology of common health issues that can be reduced by some asana and Pranayama practices. It includes:
Yoga practices for each system of the body and for special health conditions

Movement techniques for developing strength and flexibility

Practical skills for stress management, including relaxation, meditation and concentration

Essential Ayurvedic principles of yoga therapy

In-depth exploration of the energy body

 
Yoga Anatomy: 1-Hour Class on Daily Basis. Students will be introduced with yoga anatomy and physiology which are important facts to be aware for becoming a good yoga teaching trainer. It consists of:
Understanding of Patanjli's Yoga Sutras

Correlation between the physiology and the psycho-philosophical nature of the human organ systems

Physiology of main Asanas.

Common yoga injuries and their preventions
Examination: Students will be provided with full micro management of the teachers to ensure your complete development during the training. You need to pass the exam with the better understanding of the course.
Written examination will be held every 2 weeks

Practical examination will be held twice

Shat Karmas practical test will be held twice
Pranayama, Yoga Nidra & Chanting:

Two Classes of one-hour daily. Pranayama helps in breathing. It helps in expanding lungs and relaxes the nervous system. It includes:
Breathing Exercises

Mantra Recitation

Chanting & Meditation by balancing the mind and the body

Technique to open vital energy centres in the body
Asana:

3-Hour Class on Daily Basis. Students will be provided with the knowledge of yogic postures related to yoga therapy. From the third week, Students will be practiced Ashtanga Yoga Sequence. It includes:
Dynamic Postures

Standing Postures

Inverted Postures

Twisting Postures

Balancing Postures

Forward Bend Postures

Back Bend Postures

Relaxation Postures
---
500-Hour Yoga Teacher Training Schedule:
30 Wake up

6:00-8:00 Pranayama/Silent Meditation

8:00-8:30 Tea

8:30-9:30 Asana class/Yoga Therapy

10:00-11:00 Brunch

11:00-12:00 Karma Yoga/Shat Kriya

00-13:00 Self Study

13:00-14:00 Philosophy/Anatomy

14:00-14:30 Tea and Snacks

14:30-15:30 Yoga Breathing/Yoga Nidra

16:30-17:30 Asana/Ashtanga Yoga

17:30-18:30 Pranayama/Yoga Therapy

18:30-19:30 Dinner

19:30-20:30 Meditation and Chanting

20:45 Lights off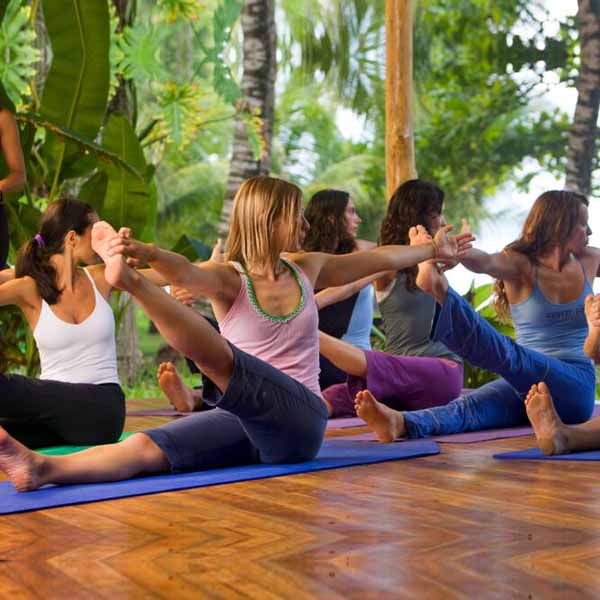 ---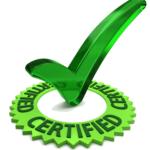 ---
The origins of yoga have been speculated to date back to pre-Vedic Indian traditions; it is mentioned in the Rigveda, but most likely developed around the sixth and fifth centuries BCE, in ancient India's ascetic and śramaṇa movements. The chronology of earliest texts describing yoga-practices is unclear, varyingly credited to Hindu Upanishads. The Yoga Sutras of Patanjali date from the first half of the 1st millennium CE, but only gained prominence in the West in the 20th century. Hatha yoga texts emerged around the 11th century with origins in tantra.
Yoga gurus from India later introduced yoga to the West, following the success of Swami Vivekananda in the late 19th and early 20th century.In the 1980's, yoga became popular as a system of physical exercise across the Western world. Yoga in Indian traditions, however, is more than physical exercise; it has a meditative and spiritual core. One of the six major orthodox schools of Hinduism is also called Yoga, which has its own epistemology and metaphysics, and is closely related to Hindu Samkhya philosophy.
---
Rishikesh Yoga Club – Gallery (Yoga Session)
[metaslider id="1398″]
---
Have you Experience "Yoga Teacher Training OR Yoga Certification India" with us?
SUBMIT YOUR REVIEW
Yoga Teacher Training (500 RYS) Overall rating: 4.9 out of 5 based on 35 reviews.
Absolute Location to practice Yoga
★★★★★
"What should I say about Rishikesh Yoga Club. The absolute location, The absolute accommodation, The absolute Food and the amazing staff members with whom I have spent my beautiful 15 Days. I have never expected this journey would have give me some outraged memories. I am glad that I chose Rishikesh Yoga Club for my deepen my yoga understanding in such a short span. HIGHLY RECOMMENDED!!"
- Lavanya Malhotra
A Journey to Remember
★★★★☆
"Risihikesh yoga clubb has changed my life beyond my wildest dreams !! Each teacher has taken there time personally to help me in growing my practice. They also guided me beyond my training so i would be a successful yoga instructor in my yoga journey. Once you step foot through those doors you will never feel the need to go anywhere else !! You instantly know you won't be judged for your beginner skills. The best part of sonic is that the teachers and students are one big happy family always looking for new members ."
- Stephen, New Zealand
A visit to remember
★★★★★
"Truly a magical journey with RYC during my 300 Hour Yoga teacher training Course. It was way awesome beyond my expectation. Huge thanks to the whole RYC team who has fulfilled all my dreams of learning Yoga with an amazing experience i can never forget."
- Joe (From Austin)
Best Yoga Club
★★★★★
"Rishikesh Yoga Club is the best in its class. This is what we personally experience during our 200-Hours Yoga Teacher Training Course. We found everything in RYC top class, that may be Trainer, study material & other infrastructure. Thumbs up to RYC...... & their team........."
- John & Zara
Great Experience
★★★★★
"Overall great experience. Highly recommended. Best in class. It is worth to invest. Training programes prepared by Rishikesh Yoga Club are Life Changing. I did my 200-Hrs. training. Spending 28- days with RYC are amazing. I will surely come again for next level training."
- Edward (Sydney), 28 yrs.
Uplifting Experience with RYC
★★★★★
"What a journey i have experienced in RYC during my Yoga Teacher Training Course. Yayy now I have become a certified E-RYT 200 with Yoga Alliance. I am super happy and all credits goes to RYC teachers specially my favorite Shivraj Sir. If you are looking to have an immense pleasure of learning yoga at its origin, please please go to Rishikesh Yoga Club, a place you can call your home. 🙂"
- Ankita Katoch
Best in Rishikesh for YTT
★★★★★
"Hi Everyone! Here goes another true review from James (YTT student graduated just 2 days back).. Feeling WOW from inside... During my stay I cherished every single moment in RYC and with other students who arrived from manby other countries.. Got amazing friends and partners to stay in touch with.. Now in my new life to spread yoga in my place Poland... So happy and feeling relaxed & mind fresh.... Hari Om & Namastey"
- James Camili (Poland)
Lovely Experience
★★★★★
"Lovely Experience with my 300 Hours YTT Program... My video will be posted shortly! 🙂 And yes thanks to Shivraj much helpful and experienced. Highly Recommend for Teacher Training RYS Reg. Best in INDIA.... Best regards, Manish (New Delhi)."
- Manish
Truly Amazing Trainers & Shivraj
★★★★★
"Perfect in India. RYC has the only truly amazing people all around. The excursions are so well organized and was a super fun, giving you a chance to experience some of what Rishikesh has to offer whilst doing the course. This is an experience I will never forget, thanks to Rishikesh Yoga Club , Angelina & Yogi Shivraj"
- Sophie Faira (UK)
Took 14 Days YTT 200
★★★★★
"Hi, I was a student of quick YTT 200 Hours which RYC is the only institute covering in 14 days if period. I was not having much time so i choosed a quick YTT course with Rishikesh yoga club.. It was really outstanding experience i had with Yogi Shivraj who is not only experienced but a truly well mannered person as well. Im truly blessed to have such yogi as my trainer. Lots of love and regards - Saint A. (NJ)"
- Saint Adeogbe (NJ)
Best Place to Learn Yoga!!
★★★★★
"Rishikesh yoga Club is one of the best places to have Yoga Teacher Training in the capital of yoga (Rishikesh) A very warm and peaceful place. Filled with love and history with its old house, the staff is extremely friendly, RYC teachers are all certified professionals. It offers yoga classes for adults and children, Pilates, Meditation, Investments, levels ranging from beginner to advanced, schedules every day. I found Rishikesh Yoga Club a best option in Rishikesh to be a Yoga Teacher Trainer...! Namastey!"
- Amelia (Manchester)
Beautiful People at RYC
★★★★★
"I just finished my 200 Hour TTC in Rishikesh with the RYC Family and I'm more than happy!! Amazing food, amazing accommodation and amazing Yoga Learning by Yogi Shivraj. I had a really great time and I´m looking forward to go back! Miss you guys already."
- Alena Gayle
Incredible Yoga with Incredible India
★★★★★
"What should I say about this beautiful country India and the beautiful people I met in Rishikesh Yoga Club. I just want to thank RYC for the great experience and journey i had with my 300 Hour TTC Course. The knowledge i gained about Yoga and myself is incredible."
- Caroline Swift
Highly Recommended
★★★★★
"I did my 100 hours Yoga teacher training course at Rishikesh Yoga Club in November 2017 and would really love to recommend this school to any person interested in learning Hatha yoga. What I liked most: Small efficient group Excellent, helpful, knowledgeable, Experienced Teachers Deep understanding of Hatha and Ashtanga Yoga Outstanding location to live laugh and learn with neat and clean accomodation Food is cooked fresh 3 times a day and is really- I mean really awesome! Teachers are there after classes as well – it is a very home-feeling atmosphere. Go Get some Yoga Guys 🙂"
- Andrea Wilson
Absolute Location to practice Yoga
★★★★★
"Love love love the location of Rishikesh Yoga Club for Yoga Teacher Training, the sounds of the waves really add to the experience. Amazing instructors, great classes and knowledge. Thanks."
- Niki Suri
Where Excellence Meets!
★★★★★
"A dedicated place to learn yoga with full experts trainers! So happy to choose RYC as my training center for 200 Hours program.... Best wishes.. Namastey!"
- Georgia (California)
The Best School in Dharamshala
★★★★★
"Rishikesh Yoga School is a school that let you face your own limit and go over them. I just loved it! The trainers, the education, the practices, the food and the accommodation was just beyond my expectation. TOTALLY RECOMMENDED."
- Chuck Patton
Magnificent Encounter With Yoga
★★★★★
"I was so lethargic and lazy at one point in my life and never thought of experiencing anything like Yoga. I always cut down myself from any type of physical activity but then I got to know about Yoga and that was my starting period when i just fell in love with. Rishikesh Yoga Club encountered me with their magnificent approaches of teaching Yoga to me, its great benefits, How this remedy is helping me, my body and soul completely. It has been an outstanding transformation of my life and its highly recommended for everyone out there who are quite busy in their buzz life. Go get some life bro and start Yoga. 🙂 Hurray!! Se agapó RYC."
- Gloria Mayden (Greece)
Wonderful Experience with 200 HourYTT
★★★★★
"Wonderful Experience with my 200 Hour YTT Course... Highly Recommend!"
- Jessica (From London)
RYC-a best place for yoga
★★★★★
"Hi guys....... it's been about my yoga training at Rishikesh Yoga Club. My training is still half way being started on 15th March 2018 & I have started feeling the results. I am sure it is going to change my life in a big way. Some of the highlights, I can give you regarding RYC:- 1) Very calm & quite atmosphere. 2) No compromise with quality. 3) Proper scheduling and diet planning. 4) Individual care. 5) Friendly techniques during kriyas. There are many other plus points, but in short, i want to say, it is worth to join RYC, very good experience."
- Chaow (from Thailand)
Why RYC..........
★★★★★
"On the basis of popularity, i also joined Rishikesh Yoga Club to get their 300-Hrs. Professional Yoga Teacher Certified training course. I can tell you, i have not done mistake by joining it. I found RYC services true to their reputation. It is really a nice experience getting Yoga Training in their world-class campus at Rishikesh- a holi place. In short, i can say---Very informative & useful training--no compromise on quality. Good Luck RYC..."
- Vishnu (from Kerala, India)
A Journey to Remember
★★★★☆
"Risihikesh yoga clubb has changed my life beyond my wildest dreams !! Each teacher has taken there time personally to help me in growing my practice. They also guided me beyond my training so i would be a successful yoga instructor in my yoga journey. Once you step foot through those doors you will never feel the need to go anywhere else !! You instantly know you won't be judged for your beginner skills. The best part of sonic is that the teachers and students are one big happy family always looking for new members ."
- Stephen, New Zealand