Why choose Rishikesh Yoga Club?

Yoga Teacher Training programs are setting new standards for tourism in India. Rishikesh has become the greatest hub of yoga institutes and has emerged as a leader in this race. There are numerous ashrams and institutes in Rishikesh who provides variety of yoga to people who are seeking fitness and peace of mind.
RYC provide finest accommodation to our students. Visit our gallery section to view your stay location/rooms which are available with all in room amenities like hot/cold water, Air conditioner, Exclusive room with attached bathroom, Wifi, Meals and others.
The only certified school by WorldYogaTeachers Organisation in North India.

The best location in Rishikesh, The best yoga hall of Rishikesh India with holy Ganga River & foothills view.

RYC also provides you the curricular activities which involves some special seminars from the famous guru ji's of yoga, Anatomy/Physiology Classes, Nourishment and self-sadhana and the guided mediation on the daily basis.

RYC membership which gives you exclusive accommodation with 25% discount upto 25 years at our club's certified home-stays at Rishikesh, Shimla, Dharamshala & Goa. So along with yoga training, get benefits of home-stay and explore these beautiful locations in India.

Rishikesh Yoga Club is the Top Leading highest rated school across India and is a Registered, World Yoga Teachers Certified, Yoga School with (4.9 from 5) Overall School Rating and thousands of Facebook reviews by our Students and Instagram followers.
What makes the difference between good and great is the Outstanding, Flexible, Focused and Energetic Teaching Staff Members of Rishikesh Yoga Club. RYC provides you the intuited World Yoga Teachers recognised Teachers who wasn't good at doing the perfect, most difficult pose but having good energy and being passionate and sharing what they knew with others.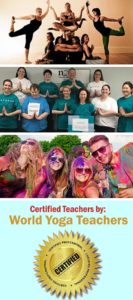 What's more fascinating is that the ultimate place of serenity where you can practice yoga under the trees, beach and river side with the proper breathing space where wind mumbles in your ears and you can just go with the flow. RYC provides you the perfect accommodation with the good quality of Satvik food at the amazing places of India where you cannot just do yoga but will have a great time and memory of your visit. The best way to experience India's culture is through home stays that offers a clean, traditional room with Wi-fi, Refreshing Showers with jacuzzi so that you'll see and feel India.
RYC offers special yoga training/teaching to Pregnant women through different and fascinating Mystical Prenatal yoga teacher training. We support mothers-to-be through pregnancy and birth. The training will be well organised with yoga, meditation, fire traditions, tea ceremonies, sharing circles and so much more! The instructors provided a development and feminine epitome of the space in which they grew together as a club.
---
Watch – An Experience with Rishikesh Yoga Club
Gallery
---
---
---
---
---
---
---
---