Yoga Teacher Training in Rishikesh, India
Experience Yoga at Best Yoga Teacher Training Center in Rishikesh
What is Rishikesh Yoga Club all about?
We are Indian Yoga in a world-class environment to help you lead a fulfilling, healthy and happy life. For us, Yoga is much more than a therapeutic complement. It is a way of living. It is the art of making conscious decisions and becoming one with the vital life force. It is about being aware of your body at a physical level and enlightening yourself at a spiritual level. Now you can experience this world renowned yoga teacher training in Rishikesh and enjoy the path of spiritual and mindfulness practice. 
Rishikesh Yoga Club signs you up for:
Practice with top-notch Yoga trainers in India.
Give your Yoga training a professional edge.
Develop your Yoga practice with guides and mentors.
A unique style of teaching for beginners and advanced level Yoga practitioners.
Yoga as an integrated fitness medium.
Guided meditation camps at Rishikesh yoga teacher training center.
REGISTERED YOGA TEACHER TRAINING SCHOOL IN RISHIKESH (200 Hours, 300 Hours, 500 Hours)
Empower yourself. Expand your horizon. Live life to the fullest.
Whether you are just learning about online Yoga and are a beginner, an advanced practitioner or want to give your Yoga training a professional edge- we are here for you. Sign up for your next wellness trip and experience yoga teacher training in India for a life changing experience.
We aim to bring out ease, flexibility and confidence in you through this ancient practice.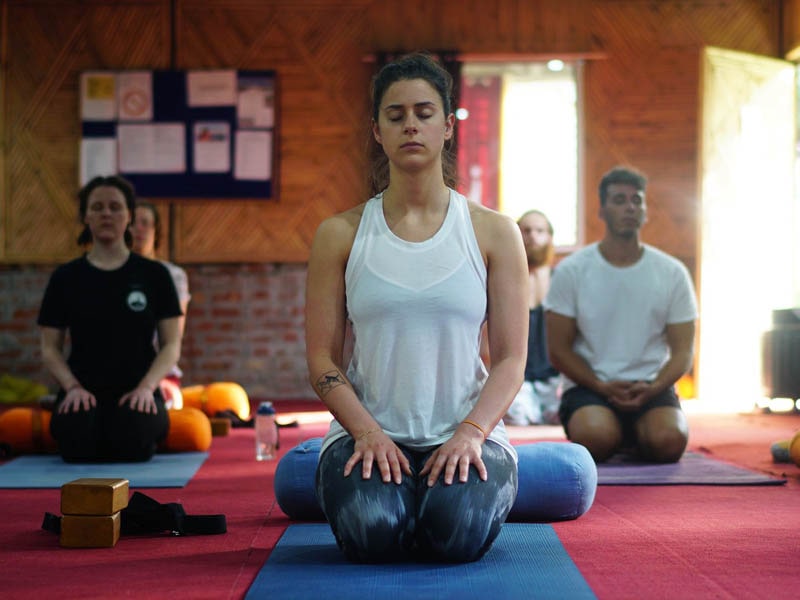 ---
---
Professional Yoga Teacher Training School in Rishikesh
The course streamlines Yoga as a lifestyle and Yoga as a livelihood. A Yogi shouldn't keep her knowledge to herself but spread it further. These government-approved courses give your Yoga training professional mileage while helping you to sustain in the outer world by doing what you love the most! The yoga schools in Rishikesh are classified into the number of hours and are internationally recognized. The syllabus covers ideology, types of Yoga (Karma, Jnana, Hatha, And Ashtanga) and techniques in an elaborate manner.
Consistency, organisation and patience are the key elements to practice if you want to reap the great benefits of Yoga. We can motivate you to do your best and help you with comprehensive Yoga teacher training, but you need to bring all these virtues on-board first with you. So lets join hands together and create a best experience for Yoga Teacher Training in Rishikesh from the world's top yoga trainers.
Best Yoga School In Rishikesh
We offers special yoga teacher training courses for beginners so if you are new to yoga, there are a couple of things that you must know about. Most importantly, you should be aware of the poses that are essential for a newbie to learn so that he or she can feel comfortable in the group, or even while practising it alone. Our program fee includes Accommodation, Meals, Yoga & Other related activities.
Read More
Yoga Training in Rishikesh 2020 Reserve your TTC Course Now
RYC provide you a great opportunity to join our certified yoga courses in Rishikesh. Making yourself confident & learning yoga teacher training from masters is what really makes you join Rishikesh Yoga Club. Enroll your seat in advance to avoid last minute rush. Be a part of yoga certification courses runs by Top Yoga professionals from the country.
Read More
Our Success Story
Our Achievement

3288
Yoga Certified Teachers

1478
Club Members Wordwide

3680
Retreats Booked

26
Yoga Courses
Enroll Now
Premier Yoga Training Center in Rishikesh
Experience the best yoga training life changing experience with Rishikesh Yoga Club affiliates. Learn & Empower the real knowledge of Yoga.
General faq
What is the difference between the 200, 300 and 500 hour courses?
The 200-Hour Yoga Teacher Training is the basic course for students who have basic knowledge and urge to be a 200  hours certified Yoga Teacher.
Our RYC's 300-Hour YTTC is an advance Yoga Teacher Training for students who have completed their 200-Hour and showed interest to become a registered 300 hours yoga teacher.
Also, 500 Hour is a combination of 200 and 300-Hour YTTC and this training is specifically for students who have not attended any training and wants to be a 500 hours in a go. This training is for 60  days and brings a great experience with us.
All the three training are recognized by Yoga organization and provides the certification accordingly. You need to choose your skill set and passion before attending the incredible course.
I do not want to teach yoga. Why should I consider this Yoga Teacher Training Course in Rishikesh?
It is not necessary to be a Yoga teacher if you practice Yoga. Every one has their own mindset, some people learn Yoga for the healthy lifestyle and some intend to be a professional and make a business through it.
Yoga definitely helps people enlightened their goals and to be connected spiritually. As Rishikesh Yoga Club is situated at the banks of Ganga in Rishikesh, it is believed that the spiritual energy of Rishikesh is elevated on account of Ganga, or Mother & Goddess Ganga as locals refer to it. And if you want to bathe in its water, here you can do it since the vibe which you get in holy river Gange, can not find anywhere.
Thousands of yogis and gurus have spent their lives of austerity here and all of them have added to the spiritual energy of Rishikesh. Because it has such a rich yoga and spiritual heritage, it is home to some of the most reputed yoga schools, and ashrams in India and all over the world. Whether you want to experience yoga by attending a couple of classes or getting a yoga teacher training certification, there is no dearth of options when you are in Rishikesh.
I don't have a strong yoga practice. Can I still join in this professional yoga program?
Definitely, you can join our program and be a part of this intensive training. We strongly prefer students who have urge to learn and passion for Yoga and its techniques. Yoga is a culture and emotion of a human body and will soon become your strength with a practice. You should be adaptable and flexible enough to take this training up for 28 days and more and enjoy being in Rishikesh with the other Yogis.
Rishikesh Yoga Club also provides 100-Hour Ashtanga Yoga Teacher Training and Holistic Kundalini Yoga sessions for students who have less knowledge of yoga practice. Emerge yourself into its deep practice and you will find yourself here.
Will this program cover the Business Aspects of becoming a certified yoga teacher
Ofcourse, We will have some sessions regarding the development of your own business or how to grow your business in Yoga Industry. You will experience some practicums which includes "how to teach a class effectively", "how to connect with your students spiritually", "how to reach the right customer for your business" or many more. Being in Rishikesh for so long, Our Yogis are well aware of the Yoga and its energy that how it attracts other so its better to learn from them and start your own Yoga Studio all across the world.
I am not sure which yoga teacher training is right for me. What should I do?
Emerge yourself in Yoga with our best practices. If you do not have any previous certification in yoga, Then we recommend you to go with 200 Hours Yoga Teacher Training OR 500 Hours Yoga Teacher Training course which will clear your all aspects of learning yoga.
OR Let us know about your experience and your interest so that we can guide you in a right direction. You can email us with your details so that we can choose the best program for you at RYC affiliates.
You can also learn more about the programs at our website and inquire us to know more details or the things you understand. Our team will be happy to assist you in all possible ways. Once we got to know about your interest and the skill set, you will be enrolled in the suitable program.
I am on a really strict budget. What other costs are associated with these programs? What is NOT included?
Our Session starts from early morning to late night and we prefer students to stay here, eat here and meditate here so that you experience the true training and the value of Yoga and Karma here. We include everything which is necessity for a person who spends its crucial 28-60 days here. Our cost includes your 3 times meal, accommodation, Yoga teacher training, your certification, excursion activities, spa and wellness therapies and many more. So we expect students to come here at the most suitable prices and enjoy being the Yogi for life.
If some people wants to go on trekking or other activities which are not included in the package will costs extra for them.
How many times a year do you offer yoga teacher training courses in Rishikesh?
As the weather of Rishikesh is very pleasant across the year and we can have this benefit for our Yoga teacher training courses in Rishikesh all time in a year. We do provide training every single month starting from 2nd/13th/15th (based on course) every month. 
If sometimes there is something wrong with the weather (e.g rain / windy / temp rise Or down), we normally have training inside the campus and restrict our students to go out. Rest everything will be same and you can enjoy every part of training being with students from all different countries.
How do I get to Rishikesh? When do the yoga courses starts and finish?
The best and most convenient way to travel for Rishikesh is to take flight from Delhi airport to Dehradun airport as it's inexpensive than taxi fees and time saver. Dehradun airport is merely 15 kms from school as soon as you book your flight, forward us your flight details and we will send our driver to receive you from Dehradun airport.
In order to attend an opening ceremony & orientation program, one should arrive at yoga center a day before starting of the yoga course. On the next day at 11 Am Yoga course will start with yoga rituals. On the last day of the yoga course Graduation & Fire ceremony take place and it finishes by 12:00 pm therefore departure must be planned on the same day OR next day (Before 12 Noon) after that.
Is Alcohol Served?
Not exactly. Even we advise our students to be alcohol free at the time of their Yoga training. Outside drinking is also not allowed. Because we are spiritually active here, we don't encourage alcohol here. Even our food is completely vegetarian so we request you all to enjoy being a Yogi here.
What kind of food is served while I practice yoga?
As India is fond of food varieties and it represents its own culture, we prefer mainly vegetarian and Satvik food here. Our meals are completely organic and made with ingredients from the nearest farms. As it says, regional eating is always healthy and we do prefer the same. Our cooking staff makes the meals from their heart with lots of love to our students. Our most of the food is Gluten free and also available for Vegans. But again you have to confirm your food preference availability while check-in to avoid inconvenience.
We provide 3 times meal and some energy drinks through out the day. There are evening teas and snacks also to have a break with the other folks. We also provide special food items to those students who have some specific food allergies.